Don't Wash Your Medical Uniforms at Home
Posted by stacy on Wed, Aug 05, 2020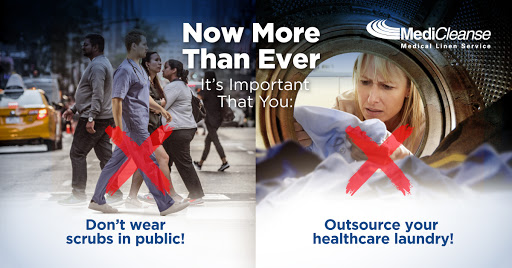 In today's unprecedented times, safety is on the forefront of all of our minds. In the hustle and bustle of the healthcare industry, it can be challenging to ensure safety for staff and patients alike. However, there is one easy step you can take that will make a big difference!
With COVID-19 still on the rise, scientists say that medical uniforms should not be washed at home. Dr. Katie Laird states, "By taking uniforms home, workers run the risk of contaminating their home environment." Workers can also expose their patients to outside contaminants too.
The Safe Solution
To make sure that your healthcare uniforms get thoroughly disinfected without the risk of cross-contamination, you need a reliable laundry service partner. That's where MediCleanse comes in!
Not only do we pride ourselves on our outstanding service, but we've gone the extra mile to make sure our facility is compliant. We are HLAC accredited, Hygienically Clean certified, and we always follow the strict guidelines set by the CDC and OSHA. 
The healthcare industry relies on safe practices and clean, hygienic uniforms to function smoothly. As a laundry service provider, we do not take that responsibility lightly. We work diligently to wash your medical uniforms safely and on a top-notch, high-tech industrial scale so that you can focus on what really matters – your patients.
Contact MediCleanse Today for High-Quality Medical Laundry Services
The science speaks for itself: washing medical uniforms at home is not worth the risk. Trust your most precious laundry needs to the experts at MediCleanse. We're more than just a laundry service; we're a partner dedicated to helping your healthcare facility thrive.
For more information on our medical laundry services, contact us today at (800) 238-6123. We look forward to working with you.