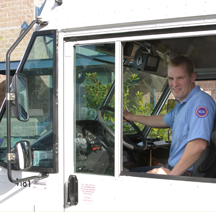 Route Manager
Service Team
Do you see yourself managing your route as a small business? Do you like to get paid based on your performance, not on an hourly rate? Do you like to be out on your own and have the ability to increase your earnings through great client care and account management?
We are looking for an outgoing and sales-minded individual who will be the first point of contact for our clients and will insure accurate and prompt delivery of our product providing first class service. You will be responsible for fostering relationships with clients, operating a 20-foot truck, accurately processing paperwork, managing account inventory and growing the volume of your route.
For a complete performance profile, please click on the following link.